Lake Erie fishing  charters  Ashtabula Ohio
Welcome to "BRING IT ON" Sport Fishing……boat #2 of Lucky Strike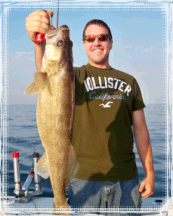 fishing charters!  Why book your Lake Erie fishing charters Ashtabula Ohio? Simply put we out fish other areas of the lake.  We regularly produce limit catches with bigger fish than the other areas of Lake Erie.  We are a full  time charter fishing service, fishing 100% of the time from our home port of Ashtabula, Ohio USA.  Call the captain…..he'll be happy to discuss your needs!  
Lake Erie has gained the reputation of being "the walleye capital of  the world".  Our area of Lake Erie has enhanced that reputation by producing not only trophy size walleye in great numbers but also trophy sized steelhead trout, yellow perch, and smallmouth bass.  Look at our pictures of the fish we catch, check out the quality of a Blackfin Yacht and you'll soon find comfort in "BRING IT ON" being your next Lake Erie fishing charter.
More reasons to book your Lake Erie fishing charters in Ashtabula Ohio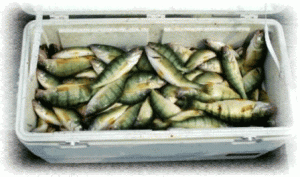 WOW – Where else could you pack coolers of jumbo perch like this?  Beyond the excellent fishing found in Ashtabula, Ohio we feel Bring It On fishing charters has a few more important things to offer…….like the "BRING IT ON" which is a Blackfin Combi   Blackfins have a reputation in the industry as being one of the best riding rough water boats out there as well as a safe, fast, & seaworthy vessel built for the long run.  Definitely one of the best in it's class, bar none, period!
Combine that with Captain Ken, who has over 25 years of experience fishing Lake Erie and you have the combination it takes to make your Lake Erie fishing charter a success.  Ken has fished with and learned the techniques from some of the pioneer charter boat captains on Lake Erie.  Ken is also a great teacher, good with kids and welcomes your families aboard.
Whether you're an individual, small group or family, or a corporate outing requiring multiple charter boats Bring It On fishing charters can accomodate your requests
Visit us on the lake and make your  happy face the next one we see behind a limit of walleye such as this fishing charter above.  Team Bring It On…. two captains with over 80 combined years of  fishing experience!  Come fish with the full time pros, not the part time amateurs!
_________________________________________________________________________________________________
_________________________________________________________________________________________________
For your next Lake Erie fishing charters in Ashtabula Ohio, fishing for the elusive trophy walleye, yellow perch, smallmouth bass, or steelhead trout call us at 440-997-7010 or 440-599-1028 anytime.  We are docked at dock #6, Kister Marina and regularly fish the Lake Erie ports of Geneva, Ashtabula, and Conneaut, Ohio
 Mailing address: BRING IT ON    6101 McNutt Ave.  Ashtabula, Ohio 44004
 Directions to the boat and your charter departure:  Click on "directions" in menu
 United States – Lake Erie fishing charters Ashtabula Ohio – sport fishing charters – fishing charters on Lake Erie, Ashtabula, Ohio
Visit the "BRING IT ON" at dock #6 at Kister Marina, Ashtabula, Ohio       
      Bring It On……..an Ashtabula Ohio Lake Erie USA charter boat bringing corporate executive, business, novice and experienced anglers from all over the world an exciting fresh water charter fishing experience.  When you fish with the "Bring It On" you'll not only find out what makes a quality offshore fishing vessel but you'll also find out why Lake Erie has been dubbed "the walleye capital of the world" and why Ashtabula, Ohio is home of legendary walleye catches!
http://www.lake-erie-walleye-fishing-charters.com                          http://www.LakeErieCaptain.com 
__________________________________________________________________________________________________
If you would like to see if a certain date is available for your next
Lake Erie fishing charter call us anytime at 440-997-7010 or 440-599-1028

                                                                                      BRING IT ON sport fishing – Lake Erie fishing charters ~ Ashtabula, Ohio