ASHTABULA OHIO CHARTERS.....home of Lake Erie trophy walleye, yellow perch, steelhead trout & smallmouth!
Many of our customers travel great distances to enjoy the fishing we have to offer on Lake Erie from our home port, Ashtabula, Ohio.  Our waters are known for their trophy sized walleye, smallmouth bass, steelhead trout and yellow perch.  Ashtabula Ohio charters are renowned for bringing not only limit catches but truly trophy sized fish of a lifetime!
Our customers need to be comfortable when we wear them out on their days fishing with us on their Ashtabula Ohio charters on Lake Erie!  And believe me, just being on Lake Erie will wear you out!  Below are a few things to help with your lodging decisions - rest well, you'll need it!
---
We have had good success and feedback lately by using Cedars Motel.  They understand what you are visiting and fishing for and can also possibly help you with your fish cleaning.  They are 10 minutes away from the boat.  The rooms have been reported as very clean and the proprietors friendly.  Call them at 440-992-5406 and tell them Captain Ken and Art on the BRING IT ON said to call.   Hmmm  seems like those lodging at Cedars have had pretty good fishing luck with us!!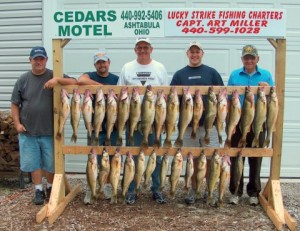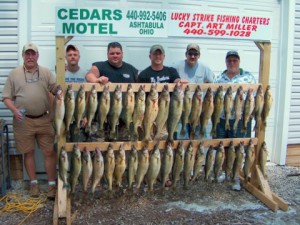 ---
You can find information on lodging, dining, and other Ashtabula county Ohio attractions by visiting the Ashtabula County Convention & Visitors Bureau at the following address:  http://www.accvb.org/ 
---
Additional lodging information may also be obtained here:  http://www.motels.com/ 
---
If you need help with any decisions or additional information on lodging while charter fishing in Ashtabula Ohio please contact Captain Ken.......he would be happy to help you.
For your next Ashtabula Ohio charters on Lake Erie, fishing for the elusive trophy walleye, yellow perch, smallmouth bass, or steelhead trout call us at 440-997-7010 or 440-599-1028 anytime.  We are docked at dock #6, Kister Marina and regularly fish the Lake Erie ports of Geneva, Ashtabula, and Conneaut, Ohio
Mailing address: BRING IT ON    6101 McNutt Ave.  Ashtabula, Ohio 44004
Directions to the boat and your charter departure:  Click on "directions" in menu
United States - fishing charter boat captains - sport fishing charters - fishing charters on Lake Erie, Ashtabula, Ohio
Visit the "BRING IT ON" at dock #6 at Kister Marina, Ashtabula, Ohio       
Bring It On........an Ashtabula Ohio Lake Erie USA charter boat bringing corporate executive, business, novice and experienced anglers from all over the world an exciting fresh water charter fishing experience.  When you fish with the "Bring It On" you'll not only find out what makes a quality offshore fishing vessel but you'll also find out why Lake Erie has been dubbed "the walleye capital of the world" and why Ashtabula, Ohio is home of legendary walleye catches!
http://www.lake-erie-walleye-fishing-charters.com                          http://www.LakeErieCaptain.com 
---
If you would like to see if a certain date is available for your next
Ashtabula Ohio

 charters call us anytime at
440-997-7010 or 440-599-1028

BRING IT ON sport fishing - Lake Erie Ashtabula Ohio charters