LAKE ERIE CHARTER FISHING DEMANDS A QUALITY CHARTER BOAT!
A Blackfin is one of the best riding rough water boats in it's class…..period!!!!
The boat……..certainly one of the most important but often overlooked things when looking for your next Lake Erie charter fishing trip should be what kind of boat will you be on.  If you're chartering a boat on Lake Erie it should certainly be on a quality sport fishing charter boat made for big open water.  Do some research and find out about the quality of vessel you will be aboard.
Naval architect Jack Horner has this to say about the Blackfin 29, "For serious sport fishermen intent on coastal and offshore fishing, the Blackfin 29 is among the best the market has to offer in this size."  Read his full review here:            
http://www.boatus.com/boatreviews/power/Blackfin29.asp
 Do some research…….your safety is involved so don't accept cheap substitutes!
Lake Erie is big water which requires respect
Be demanding – never settle for compromises regarding your safety! 
Our boat, the "BRING IT ON" is a Blackfin 29 Combi.  Google search anything about the quality of Blackfins and you will soon find out that all Blackfin yachts have a well deserved reputation as fast, solid, and seaworthy boats which are built for the long run.

Blackfin manufactured sport fishing boats capable of blue water adventures 100 miles offshore in trying ocean conditions.  Their mission was to make the strongest, best performing, most comfortable and affordable sport fishing yachts available.
Blackfin  is known for its rugged blue-water sport fishing yachts as well as for its consumer-focused no nonsense approach to design and engineering, of course with the serious fisherman in mind! 
" BRING IT ON"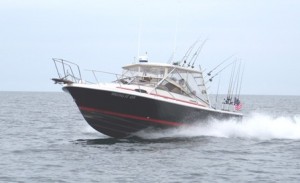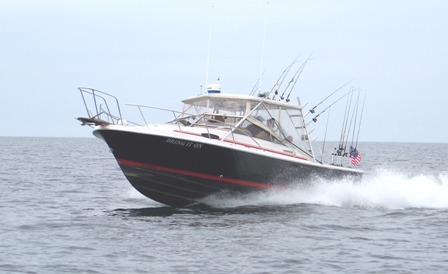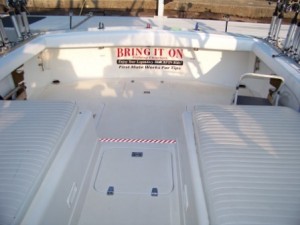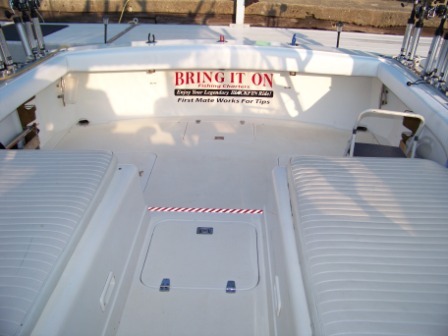 LAKE ERIE CHARTER FISHING BOATS
Lake Erie is big water……..why not be on a quality Lake Erie charter fishing boat specifically designed for fishing on your next Lake Erie fishing charter?  Many are not, just runabouts or cabin cruisers that someone has altered for fishing.  "BRING IT ON" is powered by twin Crusader 454, 350 H.P. inboards and with her speed capable of getting you to the fishing grounds safe and fast.  With her amenities she is certainly one of the most well equipped charter boats on Lake Erie.  Try to find another better riding rough water boat in her class…..you just won't….there aren't any!! 
Her broad beam yields a square foot fishing area of over 80 square feet
The Blackfin is an all-out offshore fishing machine.  With her self bailing cockpit and solid hand laid fiberglass hull you can assure your added feeling of comfort and safety while aboard.  Blackfins were built tough because the ocean is tough!
Whether your choice of charter boats is for blue water ocean sport fishing, or Lake Erie charter fishing be sure it is on a sport fishing boat built with a solid, seaworthy, big water reputation.  BRING IT ON and Blackfin have that reputation, and you will soon notice the quality she has and the care she receives the minute you step aboard.  Think another boat will run with her in trying conditions with the same comfortable ride??….think again and "Bring It On"
                Other boat and equipment specifications:
                                                                U.S.C.G.  Approved safety equipment  
                                                                Fire suppression systems
                                                                Hardtop with full enclosures
                                                                Stand-up headroom enclosed private head
                                                                Huge live well
                                                                Deck wash down
                                                                Raymarine Autopilot
                                                                Furuno radar
                                                                Lowrance HDS color video dual frequency fish finder/GPS/plotter
                                                                Two Standard Horizon marine radios
                                                                AM/FM/CD/MP3 Stereo with bluetooth and Sirius
                                                                Electric Windlass
                                                                Azimuth electronic compass
                                                                Electric planer board retrieval huge planer boards
__________________________________________________________________________________________________
For your next Lake Erie charter fishing trip, fishing for the elusive trophy walleye, yellow perch, smallmouth bass, or steelhead trout call us at 440-997-7010 or 440-599-1028 anytime.  We are docked at dock #6, Kister Marina and regularly fish the Lake Erie ports of Geneva, Ashtabula, and Conneaut, Ohio
 Mailing address: BRING IT ON    6101 McNutt Ave.  Ashtabula, Ohio 44004
 Directions to the boat and your charter departure:  Click on "directions" in menu
United States – fishing charter boat captains – sport fishing charters – Lake Erie charter fishing, Ashtabula, Ohio
Visit the "BRING IT ON" at dock #6 at Kister Marina, Ashtabula, Ohio       
Bring It On……..an Ashtabula Ohio Lake Erie charter fishing boat bringing corporate executive, business, novice and experienced anglers from all over the world an exciting fresh water charter fishing experience.  When you fish with the "Bring It On" you'll not only find out what makes a quality offshore fishing vessel but you'll also find out why Lake Erie has been dubbed "the walleye capital of the world" and why Ashtabula, Ohio is home of legendary walleye catches!
http://www.lake-erie-walleye-fishing-charters.com                          http://www.LakeErieCaptain.com 
___________________________________________________________________________________________________
If you would like to see if a certain date is available for your next
Lake Erie fishing charter call us anytime at 440-997-7010 or 440-599-1028
___________________________________________________________________________________________________

                                                                                       BRING IT ON sport fishing – Lake Erie charter fishing