ASHTABULA OHIO WALLEYE CHARTERS ~ HOME OF LENGENDARY WALLEYE CATCHES! 
BRING IT ON fishing charters is a Lake Erie charter boat providing Ohio fishing charters an exciting day of fishing the areas of Geneva, Ashtabula and Conneaut, OH USA. Lake Erie is well known as being the walleye capital of the world and Ashtabula Ohio….well…..home of Lengendary walleye catches!  Whether your choice is perch charters, smallmouth bass, steelhead trout, or walleye charters they are open big water fishing charters.  When it comes to wearing apparel it's always best to plan for the worst and hope for the best……we do fish in the rain! 
Your summer time walleye charters are primarily trolling fishing charters.  If you would like to bring your favorite lure do so & ask the captain to throw it in the water for you.  Who knows…..it may be the one which catches that wall hanger trophy walleye you have been waiting for.  And speaking of walleye…..a walleye charters fishing vacation is waiting for you in Ashtabula, Ohio on Lake Erie!
The following is a general list of items which you should bring to ensure the safety and comfort of your charter fishing trip:

#1 – valid Ohio fishing license – see our fishing license information for requirements and exemptions!

Food and beverage.  Beer is OK in cans only, no hard liquor, please.  Try to consolidate everything into one cooler to bring aboard.

Raingear

Wearing soft soled shoes is mandatory

Cooler to take your catch home

Sunglasses or other glasses for eye protection

Sun block

Motion sickness medication

Camera

Hat or cap

For perch trips it is OK to bring your own rods and reels if you wish.

For smallmouth bass trips we encourage you to bring your own rods & reels and tackle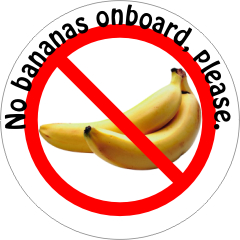 Please do not bring bananas!  Bananas are bad luck on a fishing vessel and we want you to have good luck on your fishing charter!!!
Please check with the captain if there is anything unclear about what you need to bring or your Ohio fishing license information!
____________________________________________________________________________________________
***AVAILABLE CHARTER DATES***
If you would like to see if a certain date is available for your next
Lake Erie fishing charter call us at 440-997-7010 or 440-599-1028
___________________________________________________________________________________________
For your next sport fishing  walleye charters on Lake Erie, fishing for the elusive trophy walleye, yellow perch, smallmouth bass, or steelhead trout call us at 440-997-7010 or 440-599-1028 anytime.  We are docked at dock #6, Kister Marina and regularly fish the Lake Erie ports of Geneva, Ashtabula, and Conneaut, Ohio
Mailing address: BRING IT ON    6101 McNutt Ave.  Ashtabula, Ohio 44004
Directions to the boat and your charter departure:  Click on "directions" in menu
United States – fishing charter boat captains – sport fishing charters – fishing charters on Lake Erie, Ashtabula, Ohio
Visit the "BRING IT ON" at dock #6 at Kister Marina, Ashtabula, Ohio       
Bring It On……..an Ashtabula Ohio Lake Erie USA charter boat bringing corporate executive, business, novice and experienced anglers from all over the world an exciting fresh water charter fishing experience.  When you fish with the "Bring It On" you'll not only find out what makes a quality offshore fishing vessel but you'll also find out why Lake Erie has been dubbed "the walleye capital of the world" and why Ashtabula, Ohio is home of legendary walleye charters catches!
http://www.lake-erie-walleye-fishing-charters.com                          http://www.LakeErieCaptain.com 
________________________________________________________________________________________________
If you would like to see if a certain date is available for your next
Lake Erie walleye charters call us anytime at 440-997-7010 or 440-599-1028
________________________________________________________________________________________________

                                                                                                   BRING IT ON sport fishing – Lake Erie walleye charters